Submetering for
North America
Our submetering solution helps property owners recover the cost of water utilities with ease. This plug-and-play setup includes ultrasonic water meters, gateways, and a cloud platform. It accurately measures water consumption, generates data for automatic billing, alerts on thefts and leaks, and reduces operating costs.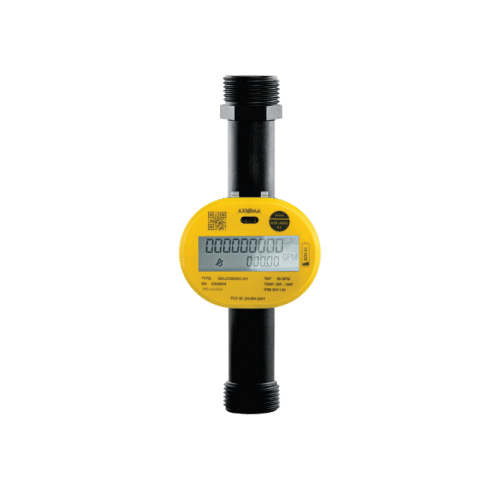 The QALCOSONIC W1 is an ultrasonic water meter designed to accurately measure cold and hot water usage in residential, commercial premises, and apartment buildings. Its static flow measurement means that the meter has no moving parts and therefore no wear and tear. This allows for exceptional metering accuracy and ensures long-term stability and reliability.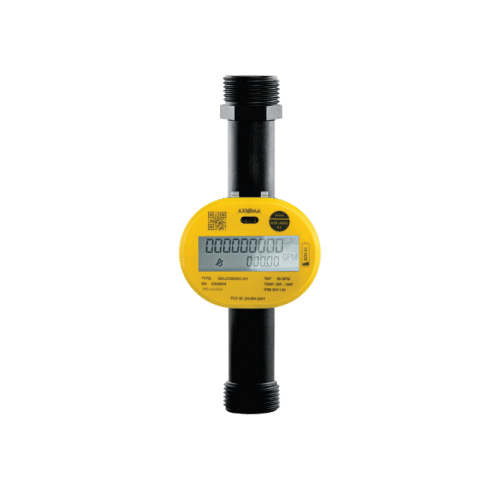 The Mainlink LoRaWAN® gateway (powered by Tektelic) is a highly optimized and cost-effective device. It is as compact as a WiFi router, but powerful enough to provide reliable radio coverage 4 to 7 stories in every direction, depending on the building type. It ensures secure data encryption and has an integrated cellular backhaul modem along with a backup battery in case there is a power outage in the building.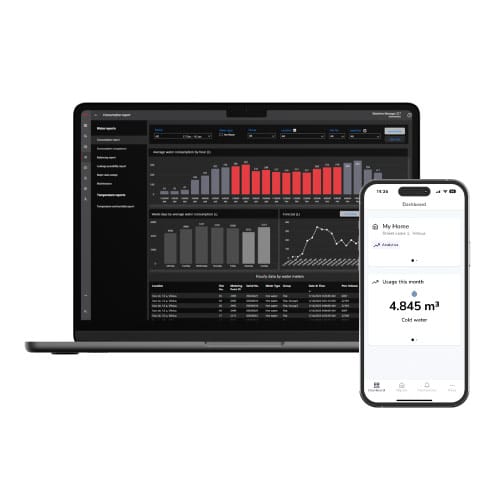 Mainhive platform for administrators
Easy-to-use platform for administrators to monitor consumption, manage meters, detect non-revenue water, and collect data for automatic billing and other purposes.
Mainlink consumer mobile App
User-friendly App for consumers to track their water consumption. Provides critical notifications, such as water leak alerts. Available for iOS and Android devices.
API for 3rd party integrations
Easily integrate Mainhive Cloud with existing platforms to automate billing, exchange data and streamline your operations.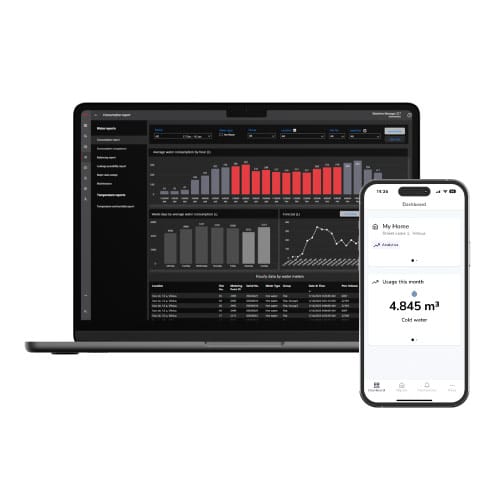 Automated data collection
All data is collected remotely, eliminating the need for walk-by/drive-by systems. This saves time, reduces fuel costs and provides a safe solution during the coronavirus pandemic.

Set up automated billing for utilities. Our platform sends consumption data to your invoicing platform.

Detect leaks as soon as they happen and prevent further damage to the property.
Bill each unit and tenant for what they use. Our solution utilizes LoRaWAN technology and advanced gateways, eliminating the need for expensive transceivers and repeaters, allowing you to save on hardware expenses.
With our easy-to-install and manage solution, you can gain valuable insights into water consumption, identify usage patterns, and optimize resource allocation. This can simplify utilities administration and free up time for other important activities.
By leveraging our solution's ability to transmit data between multiple floors, you can reduce the costs associated with hardware while still obtaining accurate and reliable information on water consumption.
Our solution is also suitable for outdoor installations at mobile home properties. Our meters and outdoor gateways are designed to be dust and waterproof, ensuring that you can track usage no matter the weather conditions.
Discover how simple it can be to get more value from new and existing metering infrastructure